Main content starts here, tab to start navigating
Frequently asked questions? We've Got Answers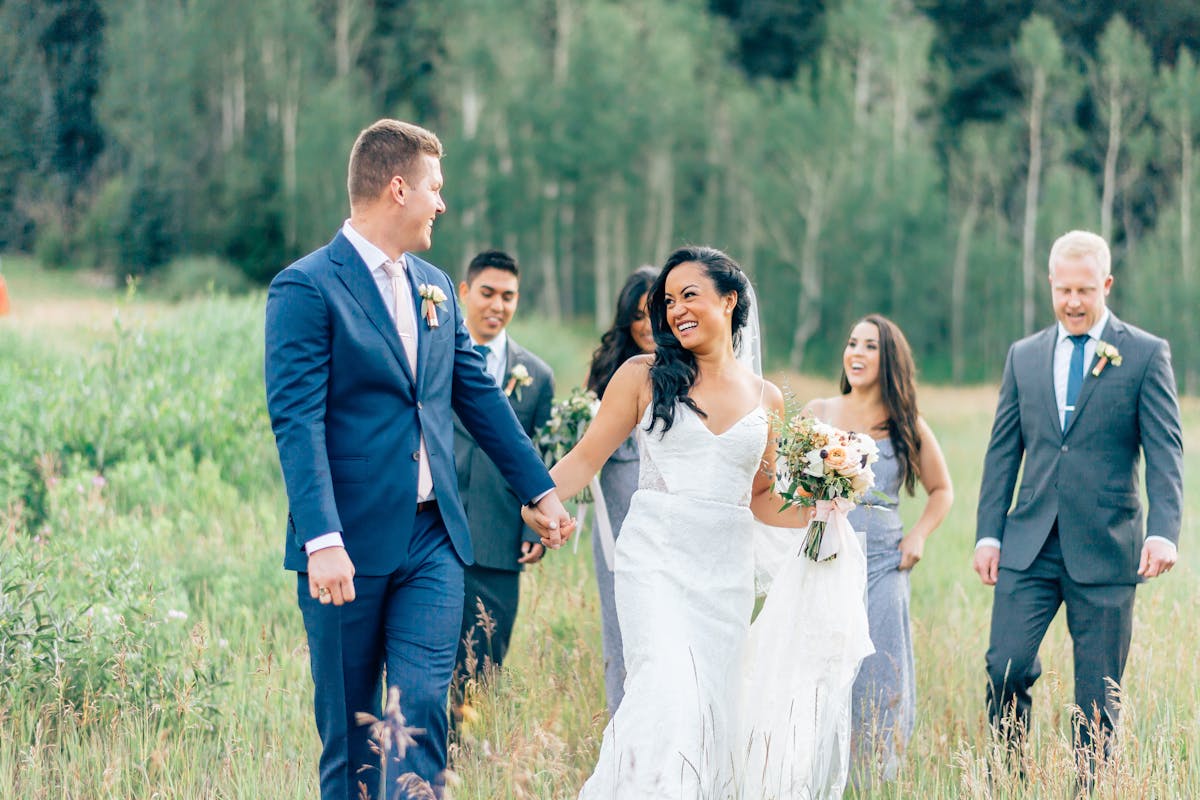 The Larkspur Experience
Larkspur welcomes you all to enjoy our premium dining and events services. Our devoted team is always on hand to talk to you about any questions you may have. In the meantime, let's answer some general questions about the Larkspur experience waiting for you here in Vail, Colorado.
Where is the Larkspur Events and Dining Venue in Vail?
You'll find Larkspur on the outskirts of Vail Village, just a 10-minute walk or a three-minute drive from the heart of town. Here's a map.
How big is Larkspur?
Our resort is 5,500 square feet and can accommodate up to 500 guests. Our venue has been thoughtfully designed to suit all types of social and corporate functions.
When's the best time to visit Larkspur?
Our Vail dining and events venue has something to offer everyone all year round. From cozy apres-ski wining and dining in the height of winter, to fall wedding ceremonies surrounded by autumnal forest hues, to beautiful sunset views in the summertime. You're always welcome to be our guest.
What kind of spaces does Larkspur Events & Dining Offer?
Our sprawling resort encompasses an elegant restaurant with an open kitchen, several dining rooms, a stylish bar and outdoor patio, a grab-and-go style food market, state-of-the-art meeting and conference rooms, a ballroom-style Great Room and more.
Are ample restrooms available?
We have men's and women's restrooms in the Great Room. The restrooms are elegantly tucked away in the corner of the room and out of view of any major photo opportunities.
Do you have a dance floor?
Yes! For inside, our gray, barn wood-style floor is a maximum of 21' x 21', which comfortably holds about 250 dancers. You can rent larger dance floors, but we wouldn't recommend going larger than 24' x 24' in our Great Room as it can get too crowded. Your guests can always dance in the bar or on the patio.
Is parking available on-site?
Yes! The Golden Peak Lodge parking lot, located directly in front of the Golden Peak Lodge (where Larkspur is located), is available daily to our spring, summer and fall guests. For winter events, the lot is available after 5:00 p.m. The lot holds about 25 cars, so if your event is larger than that or if you would just prefer it, we can arrange a valet service for your guests for an additional fee.
What's there to do in Vail, Colorado?
We always recommend exploring the wonder of Vail town during your visit. In addition to the beautiful mountainous surroundings boasting various hiking trails and ever-popular ski slopes, there's also plenty to occupy leisurely weekenders too. Choose from numerous shops and bars in the bustling town and soak up the welcoming atmosphere as you walk through the charming area.
There's also a wide range of outdoor activities for more thrill-seeking adventures too. Zoom and soar down the mountainside on a zipline or an alpine coaster and take in the spectacular views
Do you have lodging?
We don't have lodging at Larkspur. However, we can recommend plenty of wonderful places to stay in the surrounding area. We work closely with our lodging partners, and we'll share that list once we understand your guests' needs. There are a few hotels that are a 30-second walk to Larkspur. Vail's free bus, which runs year-round, drops guests at our front door. We also have self-parking spots in the area.
Do you have accommodations for guests with special needs?
We are ADA compliant and have adequate elevators and ramps to accommodate any guests with special needs.
What's the weather like in Vail, Colorado?
It's hard to decide on a favorite season in Vail, but summer is definitely one of our favorites. Our mornings are cool and crisp with plenty of sunshine (perfect for getting that hike in before your big event). Afternoons are usually warm and seasonal with abundant sunshine and temperatures near 80 degrees. An occasional thunderstorm and shower can roll through, but they typically don't last longer than 45 minutes. Our evenings and nights cool off beautifully, lending themselves perfectly to cozy up to one of our fire pits or enjoy the rest of the event from inside our bar or Great Room as you dance the night away.
Does Larkspur have air conditioning?
Please note that like many venues in Vail, we don't have strong air conditioning due to the cool mountain breezes we enjoy by opening our infinity glass doors leading to our patio.
What technology do you have for business meetings?
Our meeting and conference rooms can be fully outfitted with screens and our audio capabilities are state of the art. Find out more about our equipment and capabilities here.
Your Larkspur Event
No matter what event you're planning here at Larkspur—from weddings to birthdays and bar mitzvahs to business meetings—our dedicated events team will help finesse and execute your plans flawlessly. Until then, let's answer any questions you may have about your Larkspur social event.
What kind of Vail events do you host?
We're set up to host events and functions of all sizes, from intimate groups of 10 to huge parties of 300. If you're looking to host a more informal, reception-style (standing) event, our full venue can accommodate up to 500 guests. Our events include, but aren't limited to:
Corporate functions such as company awards, dinners and celebrations
Culinary classes and cooking demonstrations
Holiday parties
On-mountain après
Harvest lunches
Birthday and anniversary parties
Baby showers
Non-profit fundraisers
Concerts
Trade shows
Exposition demonstrations
Bachelor and bachelorette parties
Casino-themed nights
Night club dance parties
How much does it cost to have a wedding at Larkspur?
One of the first and most important decisions you'll make when planning your wedding is which wedding venue to use. It goes without saying that you should carefully consider what's included in the cost of the venue rental and what aligns most with your wedding vision.
When venues include not only the reception, but also the ceremony location, catering, service and rentals, you can expect to pay anywhere between $200-$450 per person, depending on your wedding date, guest count, and food and beverage selections.
Do you save money when you book your ceremony and reception at the same venue?
The short answer is yes. Since you won't have to account for transportation from your ceremony location to the reception venue, you can cut costs (and extra planning) significantly by booking them together. Rentals and site fees are also areas where you could save money. Often reception venues will give a discount on your ceremony site if you book your ceremony and reception, as well as providing ceremony chairs and other rentals on-site, in order to cut down on having to coordinate with any outside vendors.
What impacts a wedding venue's prices?
There are many factors that can influence your total venue cost including:
Size - The more guests you invite, the more money you'll spend. Larger venues that accommodate more people will cost more than smaller venues with lower capacities. As our venue includes in-house catering, guests are charged as "per person," so a large number of guests means a higher wedding venue cost.

Location - Wedding venues located in beautiful mountain settings (like ours) tend to have a higher cost than those located in more rural areas or near major cities.

Date - Because our peak wedding season, which is Memorial Day through the end of October, is within such a short window of time, your wedding date is likely to have a big impact on your total venue cost. For example, if you want to get married on a Saturday during peak season, you'll pay a lot more than a weekday wedding during an off-peak time of year. We have a lot more flexibility to work around your financial range during an off-peak season or weekday wedding than we have during the peak season.
What's included in your wedding package?
We provide everything you need to create a flawless wedding without having to coordinate a single additional vendor. As we are an all-inclusive venue, the following items are included in the food and beverage minimum: venue site fee, catering (including the bar program), rental items (set-up/break-down) such as indoor tables and chairs, glassware, flatware, china and basic menus.
We offer additional items such as the use of our Great Room and other areas of our facility and rentals (e.g., ceremony chairs, white table linens and a dance floor). We'll coordinate these items for you for additional fees.
Can we bring outside food or beverages into Larkspur?
Due to our concern for our guest's health and safety, outside food and beverages are not permitted for events. We do make an exception for a wedding cake that's made outside of Larkspur, pending approval by our Events Team. Please note that for an approved outside wedding cake, you'll be charged a fee of $8 per slice for cake storage, cutting, plating and accompanying garnish.
Are beverages charged as a package or upon consumption?
Soda, coffee, bottled water, specialty teas and coffee, juices and alcohol are charged as consumed. On average, drinks cost around $75 per person for weddings, $50 for rehearsal dinners and $45 for non-wedding events. The actual total cost depends on the number of hours for the open bar. Charging upon consumption rather than a set cost per person is generally a more cost-effective way to go.
Do you have a preferred vendor list or can I hire whomever I want?
Yes to both! While we stand strongly behind every vendor noted on our list, you are not confined to work only with those noted. Each vendor on our list has worked with us directly and shares all of our values regarding hospitality, best practices and quality of work. However, you can also use your own planners, photographers, officiants, beauticians, etc.
How much time do my event vendors have to set up and clean up at the end of the night?
Vendors will be allowed access for set up two hours prior to the event start time. Wherever possible, we do our best to accommodate an additional hour for set-up, but will not be able to determine until within two weeks of the event date. Clean-up will need to be completed at the end of the event.
What type of food do you offer?
Check out our events menu. We have all different types of cuisine, from fine dining to a buffet to breakfast. We also pride ourselves in providing locally sourced and seasonal menu options. You tell us what you'd like, and we'll bring your vision to life.
Can I customize my menu selections?
Yes, regardless of which menu you select, we have formatted our culinary offerings to be available as a custom selection for your event. Our Sales and Events Directors are eager to support you in finding the right dining style for your budget and unique event. We also make every effort to accommodate requests and substitutions.
When is your alcohol/noise ordinance cut-off?
Our alcohol and amplified sound cut-off is 2 a.m. For outdoor events on our lawn our amplified sound cut-off is 8:00 p.m. and patio is 10:00 p.m. If you've booked the time, your guests may move into our venue after the cut-off.
What's your weather backup plan in the case of inclement weather?
Our Great Room can be transformed into a gorgeous space for your event in the case of less-than-favorable weather. Our elegant, airy and light-filled Great Room can accommodate up to 150 seated guests for an intimate and beautiful indoor wedding ceremony. Please rest assured that we can be flexible around your timeline and may be able to postpone your event in the event of a 45-minute mountain shower.
How many people should I invite to my wedding?
The choice is entirely up to you. Creating your guest list shouldn't be stressful or complicated, so invite the people you love and cherish the most. As a guideline, we recommend giving both sides an equal number of guests and don't forget about plus-ones too! Also remember that some invitees will decline, so send out 10% more invitations than your planned number.
Here at Larkspur, your guest list can be of any size, from a smaller gathering of just 10 to a bigger wedding bash of 300. The party size also depends on which venue space/s you'll be using. For example, the Great Room is ideal for larger weddings and our private dining is a cozy option for intimate wedding parties.